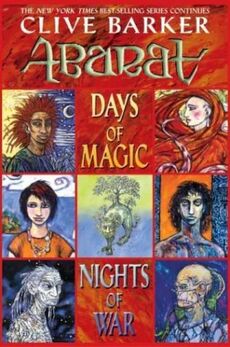 Abarat: Days of Magic, Nights of War
Candy Quackenbush and Malingo have travel from Hour to Hour to evade the bounty hunter Otto Houlihan. Christopher Carrion plots with the Sacbrood in the Pyramids of Xuxux in order to help him create Absolute Midnight and release the destroyers called the Requiax from under the Sea of Izabella.
Candy begins to develop powers of great magic, with which she frees the mysterious beings called Totemix from their imprisonment in the Twilight Palace on the island Scoriae. Malingo, separated from her on the carnival island of Babilonium, joins with others of Candy's acquaintance to form a force of resistance against the armies of Midnight. Candy is eventually captured by Letheo, the lizard-boy servant of Christopher Carrion, and taken to the island Efreet.
They rescue Candy and at her request return her to Chickentown in the human world, where she intends to hide from the Abarat's perils. The two worlds meet in a dramatic climax, wherein it is revealed by the magician Kaspar Wolfswinkel that Princess Boa's soul is contained within Candy's body, having been placed there by the Fantomaya in obedience to the belief that Princess Boa, or her reincarnation, could halt the Abarat's progressive degradation and revitalize the Abarat as a whole. Christopher Carrion clashes with his grandmother Mater Motley, having learned that she had concealed Candy's dual nature from him, and is severely wounded in the process.
Candy and most of the major characters return to the Abarat when it is pulled away from the human world. There, Mater Motley assumes control of Gorgossium island, where she executes all of Christopher Carrion's living supporters. Kaspar Wolfswinkel's five hats, which are the source of his power, are left in the human world.
Characters
Edit
Ad blocker interference detected!
Wikia is a free-to-use site that makes money from advertising. We have a modified experience for viewers using ad blockers

Wikia is not accessible if you've made further modifications. Remove the custom ad blocker rule(s) and the page will load as expected.