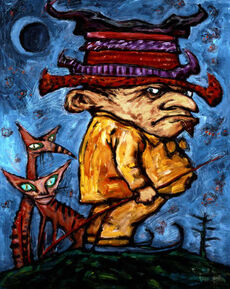 Wolfswinkel is a magician dwelling on the island of
Ninnyhammer
.
He is stated to have been a member of a circle of magicians based on the Nonce before his vow of loyalty to Christopher Carrion, on whose orders Wolfswinkel murdered the other magicians of the circle. Because their magical powers were set into the hats they wore, Wolfswinkel has no choice but to wear all of these hats simultaneously when working magic, much to his annoyance.
Wearing these hats, he is able to perform several feats of psychokinesis, including manipulation of objects, ignition of fires, and the creation of artificial life. Upon the removal of the hats, he loses control over his magic.
Wolfswinkel is an alcoholic and is most often clad in a bright yellow suit that appears to be made of banana skin. He is frequently made to seem ridiculous, both as himself and as the villain of a play lampooning his fights with Candy Quackenbush, whom he attempted to give as a prisoner to Christopher Carrion. In the second book, Kaspar accompanies Carrion to the human world and reveals to Candy the fact that she is the reincarnation of Princess Boa. Moments later, Kaspar goes into cardiac arrest and dies.
malingo the geshrat was kaspers slave until candy quackenbush saves him.