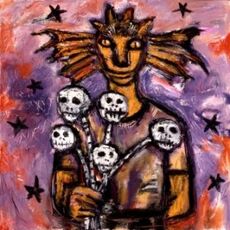 Malingo is a kind and sweet geshrat, an orange creature with four horn-shaped protrusions on the top of the head and fan-shaped ears. He is sometimes very nervous when it comes to magic, but knows quite a lot of it.
Malingo was sold by his father at a very young age to Kaspar Wolfswinkel, a man that beat him often. He was kept by Wolfswinkel for twelve years before Candy Quackenbush arrived at Wolfswinkel's house and set Malingo free. He and Candy became good friends until they were separated in babilonium.
He was alone, but was picked up by one of the Fantomaya and taken to the Lud Limbo, a ship that he became the captain of. At this time he met John Mischief and his brothers, who had previously met Candy during her adventures in the Abarat.
Ad blocker interference detected!
Wikia is a free-to-use site that makes money from advertising. We have a modified experience for viewers using ad blockers

Wikia is not accessible if you've made further modifications. Remove the custom ad blocker rule(s) and the page will load as expected.