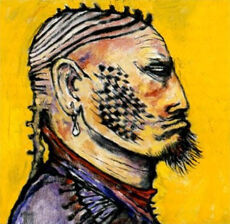 Otto Houlihan, called the Criss-Cross Man, is Christopher Carrion's notorious bounty hunter and assassin.
He pursues Candy and Malingo until the second book, where he is killed after Candy releases the beings called Totemix from the Cabinet of Wonders where they had been kept.
Ad blocker interference detected!
Wikia is a free-to-use site that makes money from advertising. We have a modified experience for viewers using ad blockers

Wikia is not accessible if you've made further modifications. Remove the custom ad blocker rule(s) and the page will load as expected.