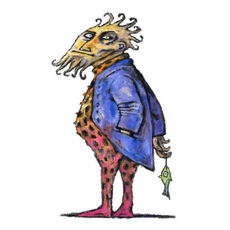 This is the inherited name of the author of Klepp's Almenak, the travellers' guide to the Abarat published in Yebba Dim Day, Tazmagor, and two other cities.
The Almenak's founder is Samuel the First, and its current publisher is Samuel the Fifth, who appears briefly in the first book and serves in part to reveal the history of the Abarat's interaction with the human world and some of its geography. Both are said to be essentially human in appearance, though the illustration of Samuel the Fifth may leave this unclear. He (Samuel the Fifth) is shown to be amiable and generous, though somewhat untidy, and outspoken against Rojo Pixler's operations. He does not appear in the second book except in relation to his ancestral publication, which is consulted by travellers throughout the Abarat.
Ad blocker interference detected!
Wikia is a free-to-use site that makes money from advertising. We have a modified experience for viewers using ad blockers

Wikia is not accessible if you've made further modifications. Remove the custom ad blocker rule(s) and the page will load as expected.